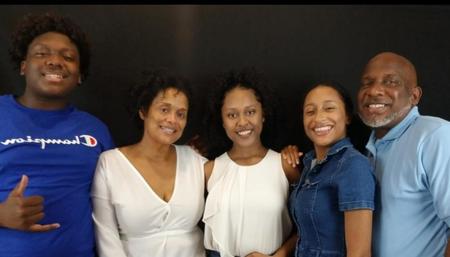 Pastor Craig Warren Williams & Family


Biography

Pastor Craig Warren Williams was born December 17, 1966, in Southampton, Bermuda. He is married to Beverley McMillian-Williams, and they are the proud parents of three (3) children, two daughters, Angelica Williams and Alaya Williams and one son, Asher Craig Williams.
A third generation Seventh-day Adventist, Pastor Williams was raised in a Christian home where he was diligently taught the gospel message by his parents and grandparents.  He was baptized at the tender age of 12 and under the leadership of Pastor Earl Parchment, he became an active member of the Southampton SDA church in Bermuda.
He later got involved in community outreach and church evangelism. His community service included having to wake up at 5am each morning to make soup and bake bread with his father. They would then drive throughout the city of Hamilton feeding and encouraging the homeless population in Bermuda.
His evangelistic experience began on Friday and Saturday evenings when he and his father would take a portable sound system and preach, have sing along and perform outdoor concerts, as his father directed the Southampton Church Youth Choir.  It was through proclaiming the Good News of the gospel on top of Camp Hill and on the grounds of Rangers Football Club, that he began to dream of creative ways of doing ministry.
After University and working in Washington DC as an Occupational Therapist, he and his wife returned home to Bermuda.  It was during his six (6) years of working in Bermuda, that he received the call to Pastoral Ministry, while serving as AYS Leader at the Southampton SDA Church.  Being a Youth Leader and conducting Youth Revivals and Campaigns helped to instil in him a deep desire to teach and preach the Gospel of Jesus Christ to the lost. After struggling with this call and the seriousness of it, He surrendered to the will of the Lord, abandoning his career as Occupational Therapist, to attend Andrews University to pursue a Master of Divinity. 
His Ministry Statement is, "To teach, preach and encourage souls to believe in Christ Jesus, as Lord and Saviour of humanity. To empower and encourage the SDA church to successfully proclaim the three angles message to the surrounding communities and the world until the day of our Lord."
His Ministerial Activities includes but is not limited to the following:


Jesus is the Answer Crusade - North Andros, Bahamas
Harbour of Hope Crusade - Mount Thompson & Moss Town SDA Churches - Exuma, Bahamas.
Harbour of Hope Crusade - Grant's Town SDA church, Nassau, Bahamas
Messages to the Last Generation Crusade - New Englerston & Peardale SDA churches - Nassau, Bahamas
Gospel Series for Children - Living Faith SDA Church - Nassau, Bahamas
Telling the Story of the Gospel Series - Living Faith SDA Church - Nassau, Bahamas
His Ministerial experience includes the following districts:
Community Service Director - South Bahamas Conference of SDA - Nassau, Bahamas (2015 – 2017)
Assistant to the Chairman of the Board - Mary Ingraham Nursing Home Nassau, Bahamas (2015 –2017)
Presiding Pastor - Gambier SDA Church, Nassau, Bahamas - (February 2020-present)
Presiding Pastor - Living Faith SDA Church - Nassau, Bahamas (Jan 2016 – February 2020)
Presiding Pastor - Parkgate & Peardale SDA Churches - Nassau, Bahamas (March 2014 -2015)
Presiding Pastor - New Englerston & Peardale SDA Churches (Jan 2013 - Feb 2014)
Assistant Pastor - Grant's Town SDA Church - Nassau, Bahamas (March 2011 – Dec 2012)
Presiding Pastor - Mount Thompson & Moss Town SDA church - Exuma, Bahamas (July 2009 - Feb 2011)
Ministerial Intern - Johnson Park, New Englerston & Living Faith Churches - Nassau, Bahamas (Aug 2008 - June 2009)